Japanese Language Classes
You will read a lot of books written in easy Japanese. Your speaking and writing will improve greatly.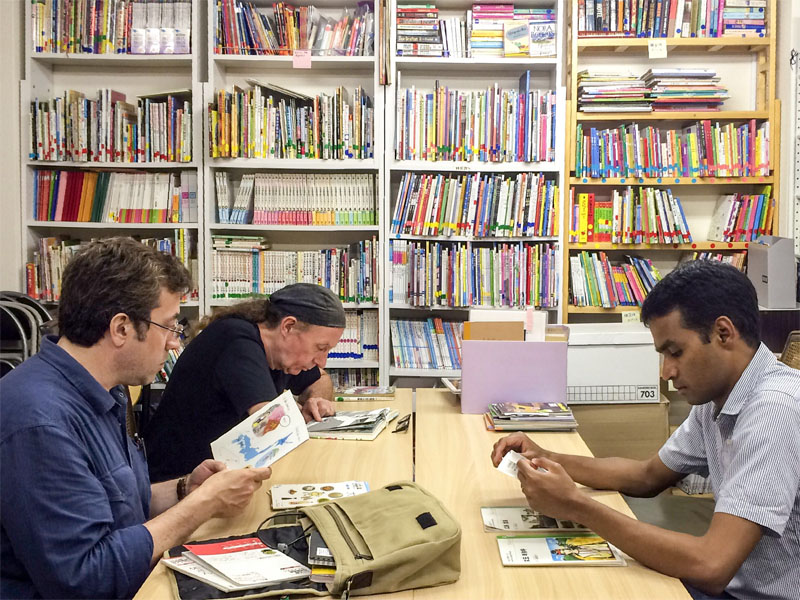 Contents of classes
Everyone starts with books/CD's written in the most basic Japanese. You will be asked to summarise books in simple Japanese. As your levels go up, you will be familiar with more complex Japanese, and discussion of the contents with fellow students and written report also becomes possible. Input will eventually and naturally lead to output. You can borrow ten books every lesson with the help from the teacher as to the level and topic best suited for you.
Class hours
14:00 to 16:00 on Tuesdays
18:30 to 20:30 on Tuesdays
※Currently closed; will be open when 3 or more have signed up. Private lessons are available if you are in a hurry.
Who are the courses for?
New arrivals to Japan
Long-time resident but needing to improve Japanese
Special needs for written Japanese
※Private lessons are recommended for beginners and exam-takers. Both Face-to-face and Online lessons are available.
Reviews by former students
I started at Level 1 tadoku readers and I'm enjoying Level 4 readers at the moment. Short stories by Hoshi Shinichi are my favourite. Speaking has improved so much I talked with a Japanese friend for three hours recently. That surprised me, actually.
Graded readers are so readable and they get just a little more difficult with each level, which made me feel good about myself. Speaking got better through discussion of books. The lessons were precious because I don't have many occasions to use Japanese. I learned a lot of Kanji through reading in the class.
Who will you learn with?
Teachers who pioneered writing Japanese graded readers 15 years ago and accumulated teaching experience since.
Fees
For members of the NPO Tadoku Supporters
Annual supporting membership fees
¥

3,000

(Fiscal year begins on April 1st.)
Tuition
¥

10,000

(

5

× ¥2,000/lesson)
¥

21,600

(

12

× ¥1,800/lesson)
For non-members
Tuition
¥

10,000

(

4

× ¥2,500/lesson)
¥

30,000

(

12

× ¥2,500/lesson)
※Private lessons: ¥3,850/hour. Both Face-to-face and Online lessons are available. For lesson contents and hours available, contact the NPO office.
Office
NPO Tadoku Supporters
2nd Fl. Nakai Building, 4-17-2 Kita-Shinjuku, Shinjuku, Tokyo( 03-6279-3973)
9 mins on foot from Higashi-Nakano stations on the Sobu line, 12 mins from Higashi-Nakano stn on the O-Edo line, or 10 mins from Okubo stn on the Sobu line.
Application / Inquiry
Telephone or email form is recommended for first contact for interview (free). Tell about your needs and preferences including problems you are having with your Japanese.
By phone:

03-6279-3973
between 13:30 and 17:30 Tues. through Fri.
※Language will be Japanese only.
By email:

Please use the mail form below.
※Language will be Japanese and English.