Voices from tadoku practitioners
Here are some of the views of the students who have done tadoku reading for more than 6 months.
No longer afraid of Japanese texts!!
I was afraid of Japanese writings and I try not looking at them. But now I can even read books as difficult as level 4. At first, I was listening to the recorded audio while reading but now I can do without the help of the audio CDs. I have picked up many complicated words and kanjis from simply reading books. I used to buy wrong food in supermarkets because I couldn't read but that doesn't happen any more. –Female from the Philippines
I've never learnt Japanese language apart from the brief period when I went to an elementary course at a language school just after coming to Japan 10 years ago. I tried to learn some kanji using some practice books but it didn't work. Eventually I gave up because I thought I was just too stupid for that. I think a lot of foreigners in Japan feel the same way as I felt. I lived in Japan pretending that all street signs and adverts were not there. I couldn't even send texts on my mobile. It was only after I met tadoku that I started reading texts in Japanese. That has given me a lot of confidence and made me feel really great. –Female from Ukraine
I have come to understand many more words and read much faster!!
Before coming to Japan I tended to read texts carefully and slowly, trying to make sure that I understood everything and every word in it. I made a vocabulary list and tried to remember every single word I'd seen. And because I was used to that kind of reading, tadoku didn't sound right at the beginning. I was especially skeptical of its "no use of dictionary" and "skip the sentence you don't understand" principles.
However, the fact of the matter was I was a slow reader and 2 months after the tadoku course started the teacher suggested to me to stick to the tadoku rules more strictly.
The difference was remarkable. I used to put so much effort in remembering new words just to forget most of them after a while, but tadoku made reading texts and learning new words much easier and hassle-free. –Male Student from Taiwan
I was quite shocked when I heard about the tadoku class and I instantly felt uneasy about it because for me reading books in Japanese was really difficult. I'd just finished an elementary language course in Korea and just landed in Japan.
But, quite the contrary to what I'd thought at the beginning, we weren't asked to read serious and boring books but, in fact, a variety of them including fairy tales, novels, manga, and picture books for children. You choose the books you like and you think are of appropriate level for yourself. Gradually, reading Japanese books became much less of an obstacle for me. At the beginning, it took me a long time to finish a book but it got faster and in the end, I could finish the entire book in an hour or two. That was not the only change. Previously new words, which appear in books that I didn't know the meaning of, used to bother me and shift my attention away from actually reading the story. But now I am accustomed to guess their meanings according to the context, and as a result, I can now enjoy reading books. Without tadoku, I still wouldn't have known that reading Japanese could be fun. –Female student from Korea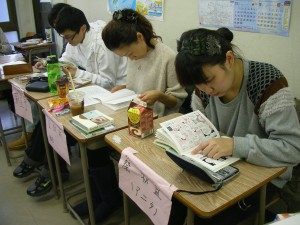 I love reading and I even have a favourite author!
Thanks to tadoku, I can now read books that I previously couldn't. It has given me a different perspective through which I see Japan. I was happy to talk about books with a class teacher, which doesn't normally happen in a language class.
I am also happy that I got to know Akasegawa Genpei, a Japanese author. –Male Student from Taiwan
It's been a year since I started the tadoku course last April. I started with the books in pink (graded readers: level 1) and went on to read essays and novels. I didn't use to read books back home, but I like it now so much so that books are almost my friends.
I got hooked on Sakura Momoko's essays and read 9 of them by September. They were fun to read and have illustrations by Sakura Momoko herself. In October, I decided to have a go at novels and tried those authors like Ekuni Kaori and Yoshimoto Banana who were also well-known in Korea. I had struggled to read Yoshimoto 6 months earlier but I was surprised to find myself reading it effortlessly this time.
I like going to bookshops these days and choose which one to read next. There are piles of books at home that I haven't read yet. I will read them all back in Korea. –Female student from Korea
It's been a year already since I started tadoku class. At first, I was shocked to be told to quietly read whatever books you like in this 2-hour-class. Why should I read alone? I've paid all the tuition fees!
But I did as I was told and now I feel my Japanese has improved a lot. I read not only folk tales but other genres like manga and contemporary romance stories. I learnt a lot of words that you don't usually see in class.
It was my first experience that I was supposed to simply read during the class and do nothing else. Having said that, I don't read at all if I don't go to this class. This class made me overcome the fear of reading Japanese novels, and now I actually like them. I bought a lot of novels before going back to my home country. I love reading books now. –Female student from Hong Kong
Tadoku class is absolutely a must!
I'd never experienced tadoku class since I had begun learning Japanese language. I have always liked reading but normally I don't get much time to read. Through this 2 hour long class, my reading speed has gone up. I think it's good that you get to choose whatever books you like, because different people have different preferences. The class teacher suggests reading manga for those who don't read at all as an entrance and gradually guides them to reading books. I think tadoku class is a great idea. –Male student from Taiwan
The teacher gave me a variety of books. She knows what is best for me, and most of the books are enjoyable to read. She made some books especially for me, by writing more kanji into children's books, and that was a good training. I think the lessons are not as good without the teacher. The teacher knows the content and level of a book, so the teacher can judge what the student can read and what the student cannot read. Therefore, the teacher is an essential part of the success of the lessons. –Male, in Netherland
At the beginning I was following word by word but gradually, through tadoku, I began to understand the text as a whole. I feel I've taken in a lot of Japanese without even realising it.
If you are studying Japanese, it's such a waste not to read books in Japanese. You must try tadoku reading. –Male student from Korea